Page Not Found
No worries you probably mistyped something, looked for something that does not exist anymore or just downright broke stuffs - just carry on with the menu at the top!
I want to support this incredible school!
Beacon Pride! Beacon Spirit! Beacon Gear!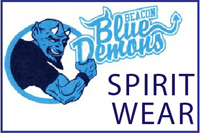 Buy Beacon Wear on the last Friday of every month. Show your school spirit. Go Blue Demons!
School & PA newsletter subscribing